ABOUT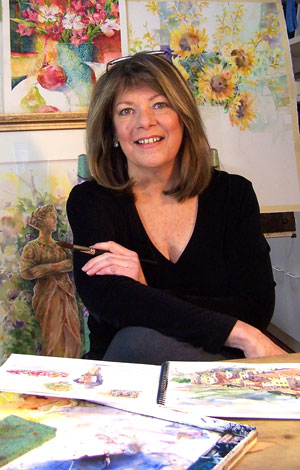 Watercolor has held me spellbound since I first laid brush to paper. I'm in awe of the way the paint moves and mingles and glistens, up to the very moment it dries on the paper. With each new painting, watercolor teaches me timing and patience and humility. Its very nature forces me to embrace the unpredictable, and to relinquish control over my painting process. Though I've tried other media, watercolor is the one that resonates.
I closed the doors to my Advertising/Design business in 2010 to begin painting full-time. Life as a painter is a blessing—and a challenge. I spend my days teaching classes and workshops in the US and abroad, as well as participating in outdoor art shows, entering exhibitions, judging shows, marketing myself, attempting to keep up with technology,—and painting. I'm grateful to have a loving spouse that understands my passion.
Whatever my subject, I attempt to paint it with a calculated mix of detail and looseness developed through years of practice. Capturing light, transparency, and contrast are my primary goals.
I am honored that my paintings have won top awards and have been featured in national publications and books. I'm diligently focused on continuing to grow as an artist as well as a creative, caring human being.
PUBLICATIONS
Watercolor Artist Magazine: Chosen as One of 10 National "Ones To Watch" Dec., 2010. Nominated by artist, John Salminen
Palette Magazine: "An Artist Worth Noting"
Sketchbook Confidential II, by North Light Books
Watercolor Artist Magazine plein air article
Art Journaling Magazine
Virginia HOME Magazine
PARTIAL LIST OF JURIED SHOWS AND EXHIBITIONS
VA Watercolor Society Annual Exhibit—signature member (3 Awards including Best in Show, Award of Distinction, Award of Merit)
Southern Watercolor Society Annual Exhibition
Waynesboro Fall Festival (3 awards)
Taubman Museum Sidewalk Art Show (4 awards)
Lexington Art on the Green (3 awards, including Best in Show)
Central Virginia Watercolor Guild (award)
Virginia Highlands Annual Exhibition (3 awards)
Bath County Art Show (award)
League of Roanoke Artists Exhibition (award)
Staunton Arts in the Park (award)
Williamsburg Art on the Square (award)
Featured artist: Staunton Augusta Arts Center, Staunton, VA.
One Woman Show: This Century Gallery, Williamsburg, VA
One Woman Show: Twin Rivers Country Club, Williamsburg, VA
One Woman Show: Carnegie Hall, Lewisburg, VA
One Woman Show: Arts Depot, Abingdon, VA